WINDSURF-Course for kids and teens
JUNIOR WINDSURF COURSE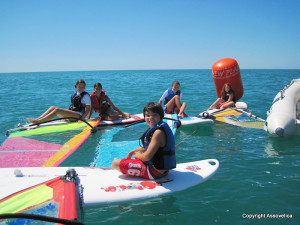 Windsurf game starting from 6 years old.
Learn with fun! The windsurfing school is designed for children so they may learn all the bases of the "sailboard".
Lessons are conducted with size and weight reduced equipment, that is age-appropriate and right to the young athletes body structure.
The young windsurfers will work together in a fun and safe environment. Five lessons to be arranged with the instructors.
The courses can be implement weekly or on request by appointment.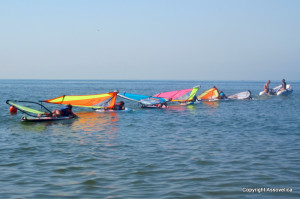 Teaching:
1.   Nomenclatures (windsurf hide and seek)
2.   The sea and the winds (Guess what surrounds us)
3.   Balance (dips)
4.   Let 's start to navigate
TEEN WINDSURF COURSE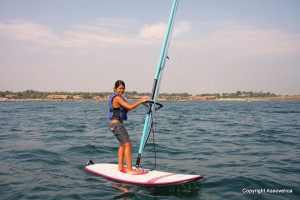 Starting from 13 years old.
The courses are designed according to the young windsurfers's technical level and height using the right equipment. They work in groups, each one designed on the basis of their level, in a fun and secure environment. Five lessons to be arranged with the instructors. The courses may be held weekly or on request by appointment. The program for the older ones may be rescheduled and they may work for the same goals set in the adult courses.
The athlete must have shorts, hat, T-shirt or t-shirt (better if lycra shirt), bathrobe, bathing suit for change, sun cream.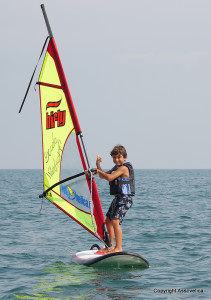 LESSONS HAVE PLACE ONLY IN OPTIMAL WHEATHER AND MARINE CONDITIONS.
INSTRUCTORS: all teachers are highly qualified federal instructors.
MEMBERSHIP: the school gives you a federal membership card including insurance coverage.
EQUIPMENT:ready to use boards and sails for all ages, trapezes, life jackets, children's equipment.
ATTENDANCE CERTIFICATE
NONATTENDANCE: you may catch up any missed lesson upon agreement with your instructor.