SURF GAME starting from 7 years old.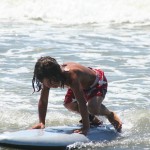 Surf on waves is based on a game in a completely safety, exploiting the lower waves. Harmonizing balance and fun. The first steps to learn surfing.
The programm is based on activities in order to stimulate creativity, group's sociality, nature's contact and respect for nature.
Lessons are divided in two levels: BASED AND IMPROVEMENT.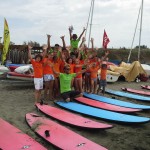 Starting with "softboards". The use of the softboards revolutioned the surf's teaching for the beginners. Following we're going to use differents boards with specifically measures adapted to the fisical features and abilities.
Starting surfing with us is a funny opportunity…
an unforgettables moments!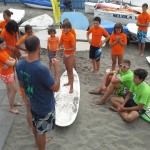 EVERY LESSONS WILL BE TEACH IN AN OPTIMAL WHEATHER AND MARINE CONDITIONS.
INSTRUCTORS: courses are teching by federal instructors highly qualified.
MEMBERSHIP: the school considering a federal contract and a insurance coverage.