BASIC COURSE: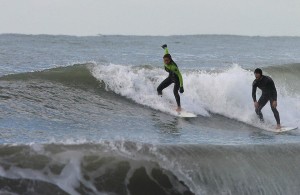 TERM: 5 lessons, each lasting 2 hours, on appointment, depending on marine weather forecast.
 For the first two lessons flat water may be good as well, because the aim is to improve board positions, puddle stroke and to gain self-confidence. For the other ones a minimal wave is necessary. There is also the opportunity to use indoboard and SUP to learn basic techniques and improve one's balance level.
Theory: learning about waves, tidal currents and sea bottoms, weather science, some history of surfing, board features (short board, long board and SUP ) and surfing gears, water safety.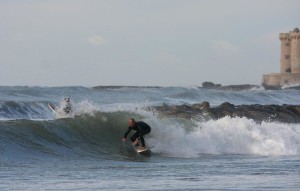 Practice: positioning yourself on the surf board, lying down on your stomach and standing (prone to your feet); being comfortable using the board; padding in water, choosing the wave..
SAFETY: surf board control is extremely important; beginner lessons have place in flat water after some beach practice. While you are in water one of our instructors is always supervising.
FIRST WAVES: the first step is to try moving on the white water waves, under your instructor's supervision. You'll see you'll be sailing on the foam and ride full waves right away.
ADVANCED COURSE: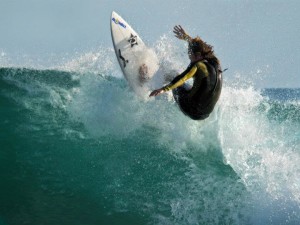 For those who want to improve their technique, style and learn the first maneuvers.
The number of lessons, to be decided together with your instructor, depends on your skills and experience.
The goal of each course is to help you achieve self-confidence and know enough to face the sea without a guide.
LESSONS HAVE PLACE ONLY IN OPTIMAL WHEATHER AND MARINE CONDITIONS.
AFTER LESSONS: 4 hours practice with surf board on the waves and padding on flat water.
INSTRUCTOR: all our teachers are highly qualified federal instructors.
MEMBERSHIP: the school provides a membership card including federal insurance coverage.
EQUIPMENT: ready to use soft boards for all ages.
You may catch up any missed lesson upon agreement with you instructor.