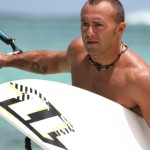 Luca De Salve class 1975, moved from Rome to Cerveteri at 18 years old, knows and learns to love the sea and it's amazing.
At 19 years old join in a beginners windsurfer course.From that moment he can't help surfing, windsurfing and kitesurfing.
After many trips around the world in which Hawaii, Mauritius and Barbados, in the 2008 he decides to specilize in kitesurfing, succeding in a instructor's licence FSKI, approved by Coni.
He established the ASD Big Wednesday Kite School , to teaching this amazing sport.
Referring to what Jacques Cousteau saids, he daily reminds::
"After the magic moment when my eyes were opened to the sea,
it wasn't possible for me anymore to see, think and live as before "
FSKI instructor, approved by Coni, lifeguard, founders of Asd Big Wednesday Kite School, he's an athlete with international and national experience.