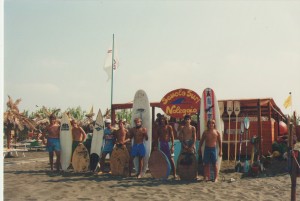 Born in 1984 with the purpose to promote aquatic sports on the Lazio's coast.
Real pioneers of these disciplines, today we represent an institution for all windsurf, kitesurf, surf and SUP lovers. In these years we've tried to pass our experience and passion to the many children and adults who have chosen our sport center. Our customers as our wish to improve has grown exponentially.
We succeeded in giving to Ocean Surf's customers something that we've been looking for all over the world: a place where people who share the same passion can meet, talk about surf, trips, waves and winds.
Thanks to the cooperation with the most important companies of this sector, we have became a specialized sport center of surf, windsurf, kitesurf and SUP, with a school, a rental service and garaging place.
---
Starting this year we're going to cooperate with even more qualified instructors and athletes.