BASIC COURSE
First approach to the practice of windsurfing. The aim of this course is to make the athlete work in order to become autonomous.
Term: 5 lessons of 2 hours each in addition to a 4 hours practice, at the end of the course, meant to let you use sport equipment and to continue practice in complete safety.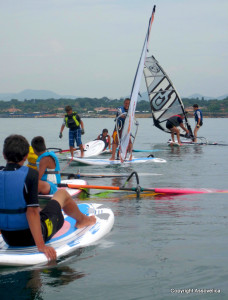 Teaching:
01. Compass card
02. Breezes
03. Nomenclatures
04. Wind conditions in the spot
05. Transport windsurfboard and sail
06. Simulator
07. Tight and ease the sail
08.
 Barycenter's sail and centerboard (touch on)
09. Recovery of sailing
10. Basic position (tacking, rotation bow/stern)
11. Start
12. Navigation
13. To luff up
14. Reaches
ADVANCED COURSE
Natural continuation of the previous course, it allows you to acquire more confidence with average wind, a better technique and style.

The number of lessons depends on the skill of the athlete. All lessons in the water are preceded by theory lessons on the ground.
Teaching:
01. Body trim
02. Basic tacking
03. Basic jibe
04. Using the centreboard
05. Luffing up short-range
06. Reaches with a stiff breeze
07. Tacking in 3 steps
08. Real wind and apparent wind
09. Basic nodes
ADVANCED COURSE 1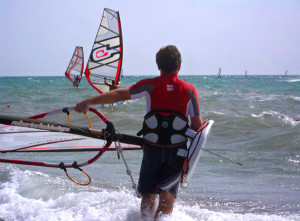 The number of lessons depends on the skill of the athletes.
Teaching:
01. Beachstart
02. Luff up ( windsurfboard in the water, feet on the seabed)
03. Launching and landing from the beach with wave medium – small
04. Speedy jibe
05. Observations of wind's blasts
06. Using the trapeze
07. Technique to sail from Moderate to fresh wind
ADVANCED COURSE 2
The number of lessons depends on the skill of the athletes.
Teaching:
01. Pumping and plane
02. Plane reach
03. Plane's Technique
04. Beachstart with big waves
05. Waterstart
06. Carving step jibe
07. Power jibe
---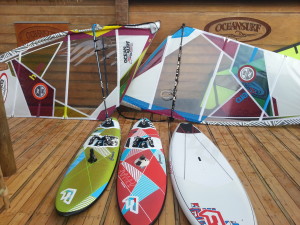 The goal of each course is to give the athlete the necessary self-confidence and knowledge to face the sea without the support of the instructor .
INSTRUCTORS: the courses are taught by highly qualified federal instructors.
MEMBERSHIP: the school provides a membership card including Federal insurance coverage.
EQUIPMENT: all ages boards and sails, assembled and ready to use, trapeze, life jackets.
RENTAL: at the end of the course a certain number of hours is included to hire your equipment and practice independently.

ATTENDANCE CERTIFICATE
NONATTENDANCE: you may catch up any missed lesson upon agreement with you instructor.